PRC Services Caravan
Published: July 18, 2023 03:00 AM | Updated: July 26, 2023 11:38 AM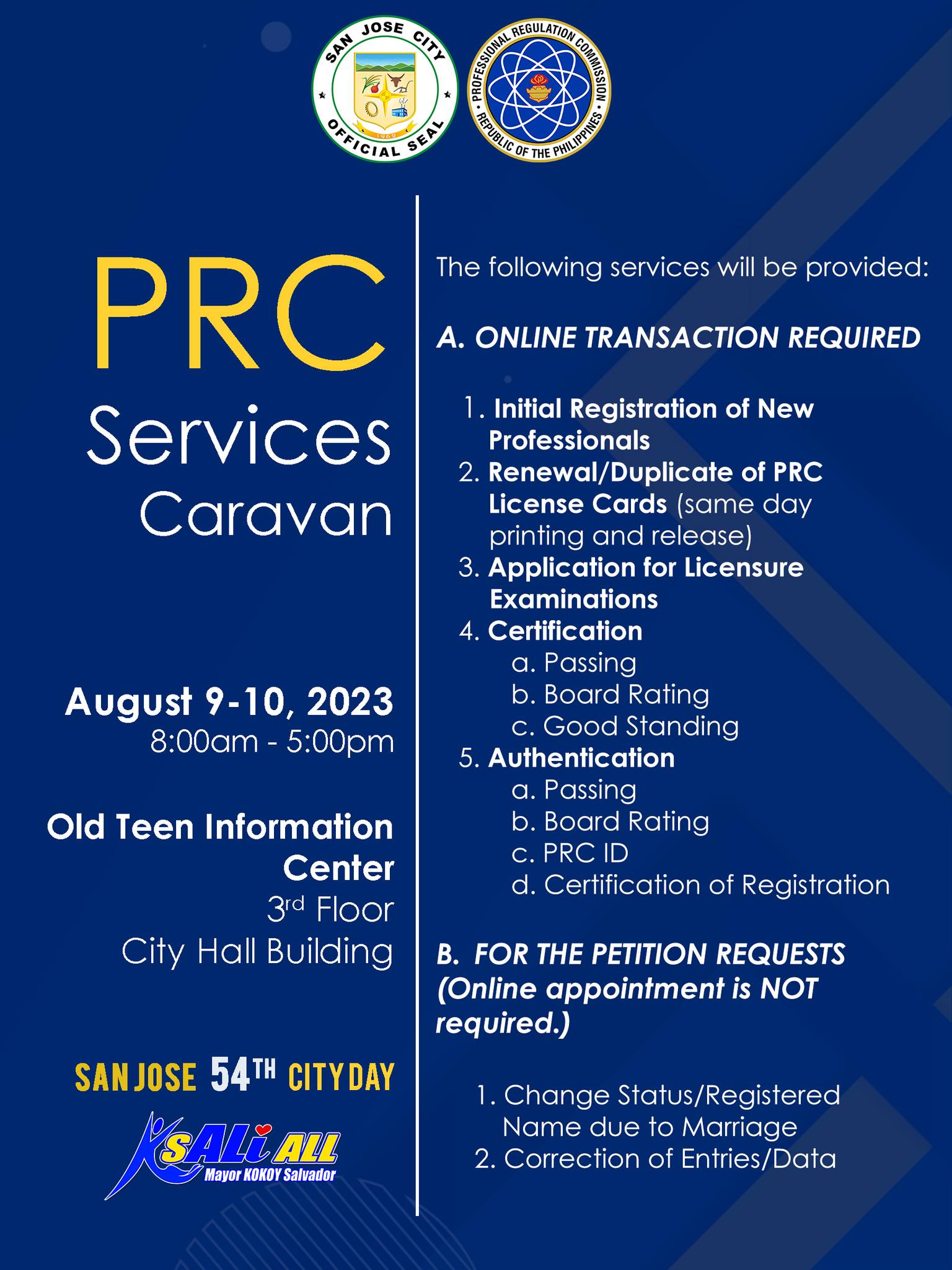 PRC Services Caravan
City Hall Building
August 9 and 10 (8:00am-5:00pm)
*Limited Slots Only*
The following services will be provided:
A. ONLINE REQUIRED TRANSACTIONS
1. Initial Registration of New Professionals
2. Renewal/Duplicate of PRC License Card (same day printing and release)
3. Application of Licensure Examinations
4. Certification:
a. Passing
b. Board Rating
c. Good Standing
5. Authentication:
a. Passing
b. Board Rating
c. PRC ID
d. Certifictaion of Registration
B. FOR THE PETITION REQUESTS (Online appointment is NOT required.)
1. Change Status/Registered Name due to Marriage
2. Correction of Entries/Data
PLEASE NOTE:
ONLINE REGISTRATION IS A MUST EXCEPT FOR PETITION REQUESTS.
PRC SERVICES Process:
1. For Online Required Transactions, register online via https://online.prc.gov.ph/.
For Petition Requests, online appointment is not required. You can download the Petition Request Forms below:
• Change Name due to Marriage (https://tinyurl.com/dhrzsub7)
• Correction of Entries/Data (https://tinyurl.com/4wyrckcc)
2. Slots for online required transactions are already available.
Important Reminders:
1. No applicant will be accommodated unless there is a confirmed application online except for Petition Requests. *LIMITED SLOTS ONLY*
2. Print your application forms via your PRC online account before the PRC will be able to process your request.
3. Payment can be made thru the following:
a. Credit/Debit Card
b. Landbank
c. Gcash
d. PayMaya
e. Other payment options in the PRC registration website
4. One (1) Documentary stamp (with P30 face value) is required for each of the following transactions:
a. Exam Application (may require more than 2 depending on the board exam)
b. Initial Registration
c. Certification and Authentication
d. Petition requests
5. As per PRC policy for online appointments, there would be NO SAME DAY APPOINTMENT (as shown on screen during the online process)